---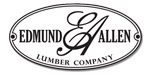 Edmund Allen Lumber Company
Edmund A Allen founded the company in 1897 in downtown Chicago. After WWII, we established a location in Momence, Illinois that became our sole office just a few years later. We have long been considered the Midwest's premier Western Red Cedar distributor with regards to selection, quality, and experience. We have been factory finishing our sidings and trims in a controlled environment since 1962. We were the first "staining" operation of our kind east of the Mississippi, and we are the third-longest running factory finishing operation in the country. In our commitment to provide for the custom needs of high-end construction, we operate an advanced custom milling operation on our premises to create nearly anything your architect can dream up in cedar. We are 100% employee-owned and committed to providing the best products and service in our categories.
Follow Edmund Allen Lumber Company Online
Product Lines
Categories
Want more information on Edmund Allen Lumber Company? We can help.
Fill out the form below and we'll get in touch. The fields marked with, *, are required.
We are constantly adding new specials to our site. Be sure to check back often!
Sign up for our Email List
Stay updated with all our latest posts, products and offers! Just enter your information below.